Translate any content easily.
Expert Human Translation, Powered by AI
Expand globally with confidence: Taia combines AI and human expertise for accurate, brand-consistent translations, simplifying your localization process.
We are using Taia for all our translations from German into English and French since 2019 and have been positively surprised from the beginning. Our texts are used for product explanation, advertisement and official contracts with clients.
Taia has always delivered in a fast pace, with the highest quality, to an incredibly fair pricing.​
I find Taia nothing short of great, it is so easy to use, and the customer service is impeccable. I would strongly recommend Taia to anyone interested in high quality translations, through an easy-to-use tool that is customizable to your individual needs for each project. Highly recommend.
Taia customer support and accessibility has been great. The team has worked to accommodate as much as possible to our projects' needs. They supported us with Translation Memories allowing us to identify one on one year translation changes making the process more efficient. Communication and collaboration are easy and professional.
Very professional and tailored services. Innovative and intuitive platform to submit documents for translation along with the supporting information. The seamless integration of invoicing and payment options is also very convenient. Thank you Taia team for the continued support.

Need your translations yesterday? Our platform removes 90% of email communication so we can get started on your project instantly.

Consistently delivering high-quality translations on time, we are proud to have a 99.4% client satisfaction rate.

From initial contact, all the way to our long-term project support, our friendly and responsive team is there for you at all times!
With the Taia Platform, you are always in control​​
Ordering localization services has never been easier.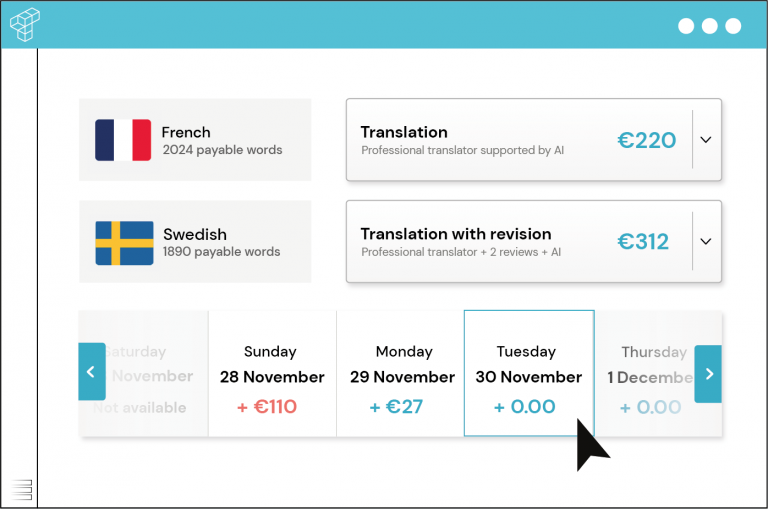 Customize the quality, speed & price of your localization projects in seconds
Choose your desired delivery time, translation quality, special requirements and optimal price with only a few clicks.
Our ordering process is fully adaptable to your specific project requirements.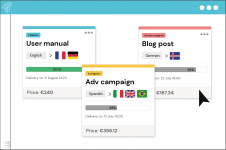 Stay on top of all your projects with our real-time, easy-to-use dashboard.
Keeping track of projects shouldn't be difficult. That's why we've built a real-time progress overview of all your projects. This way you'll never have to wonder what is going on with your project.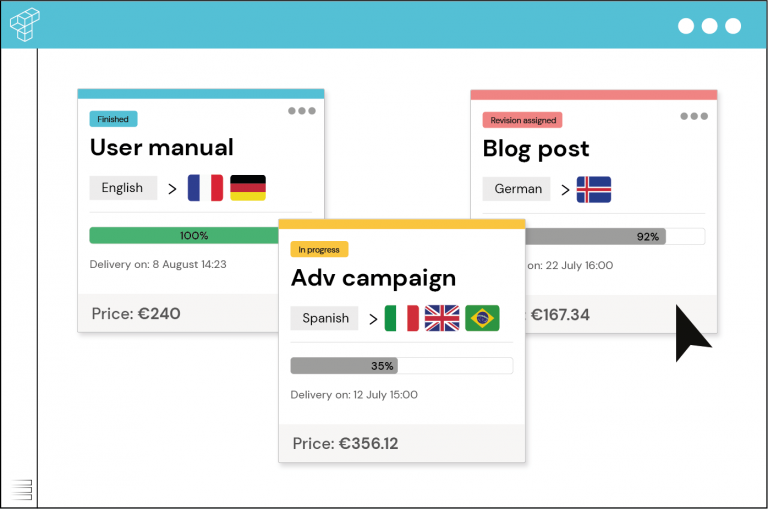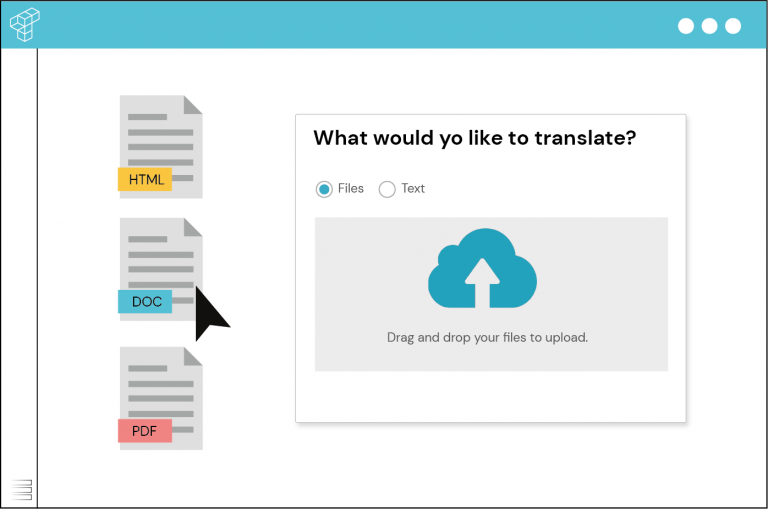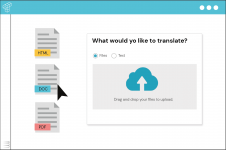 Getting a price quotation for your project has never been easier!
Stop wasting time with slow, back-and-forth email communication.
Upload any file, choose your preferences and get the most personalized price on the market in a matter of seconds.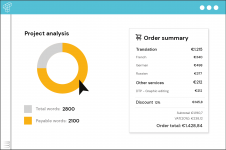 A detailed and fully transparent price breakdown.
We value full transparency! With our detailed cost breakdown, you will know exactly how much we charge for individual services and languages, right down to the last word.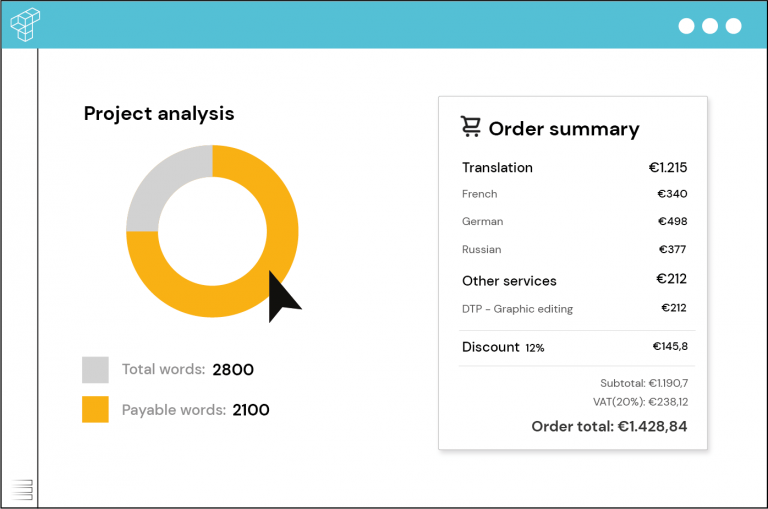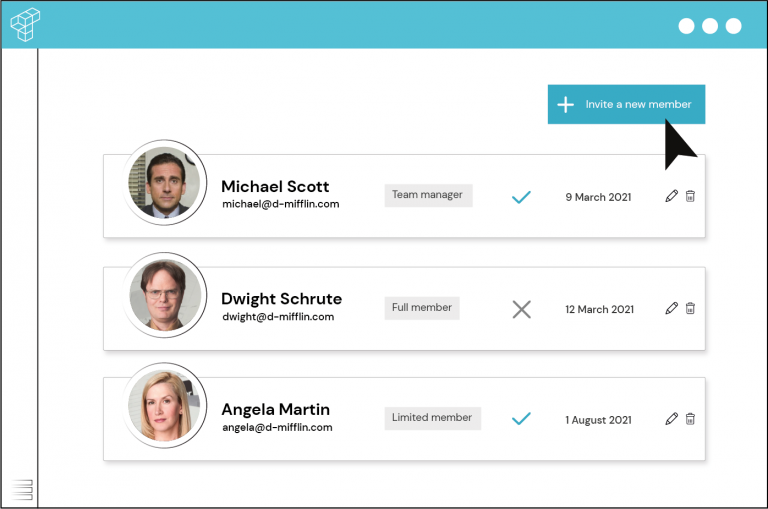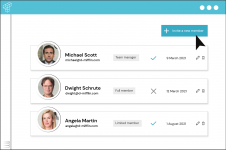 Assign tasks, manage teams, and oversee projects all in one place.
Collaborate with your team, assign roles and manage your whole company with an intuitive interface, as well as order and oversee all your projects within the same workspace.
Try out Taia now—sign up for a free account and see how you can easily translate all of your content!
"The Taia platform is easy to use. The customer support and accessibility of the Taia team is excellent. The translations are of good quality and delivered as agreed. Technology offers affordable prices. Very satisfied."
Vojko Pezdir, Head of Marketing @Euroton
Your satisfaction above everything else
Only the Best Linguists
ISO Certified Process
Dedicated Project Manager
Only the Best Linguists
Take advantage of our team of 600 cherry-picked native speakers, each with 5+ years of proven industry-specific experience. Their work is analyzed and rated after each completed project.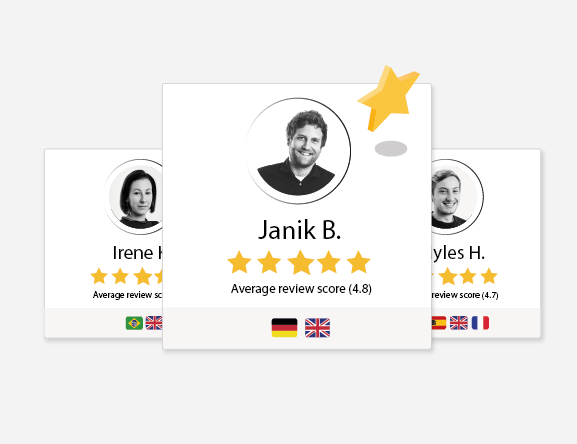 ISO Certified Process
Dedicated Project Manager
Taia solutions are made for your business​
A plethora of different localization solutions packed in one platform.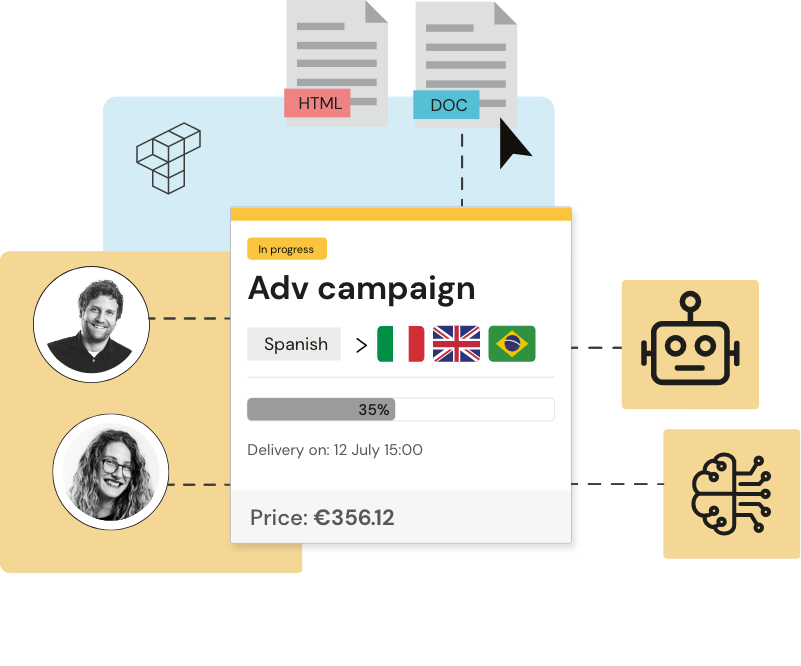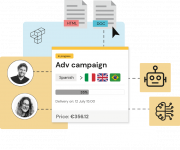 The Taia platform is our answer to old and clunky localization processes. With our easy-to-use, modern approach to localization, ordering professional translations becomes as simple as ordering a coffee.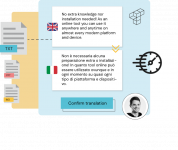 Taia's Platform gives you access to an innovative online AI translation tool that helps you self-translate your documents up to 3-times faster than you normally would. This is made possible with the help of advanced AI, machine translation and translation memory, all packed into an easy-to-use interface.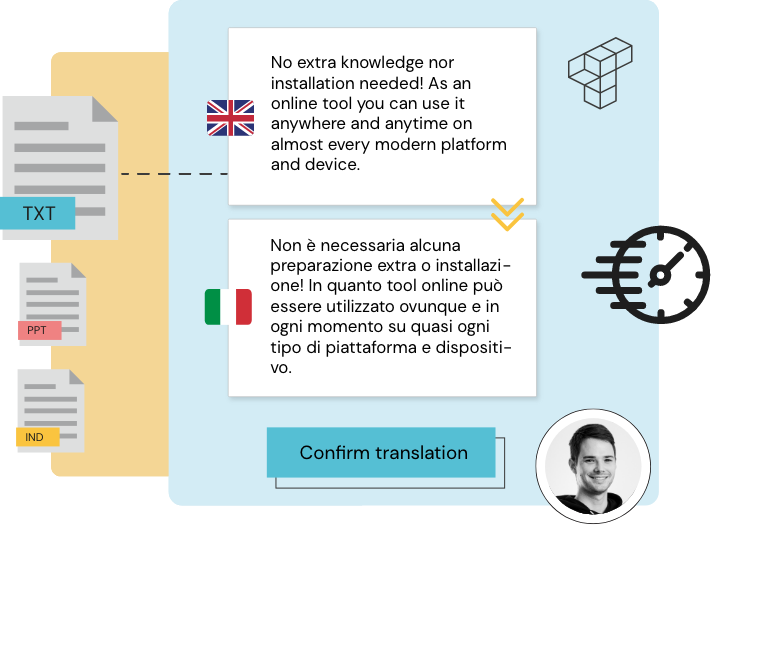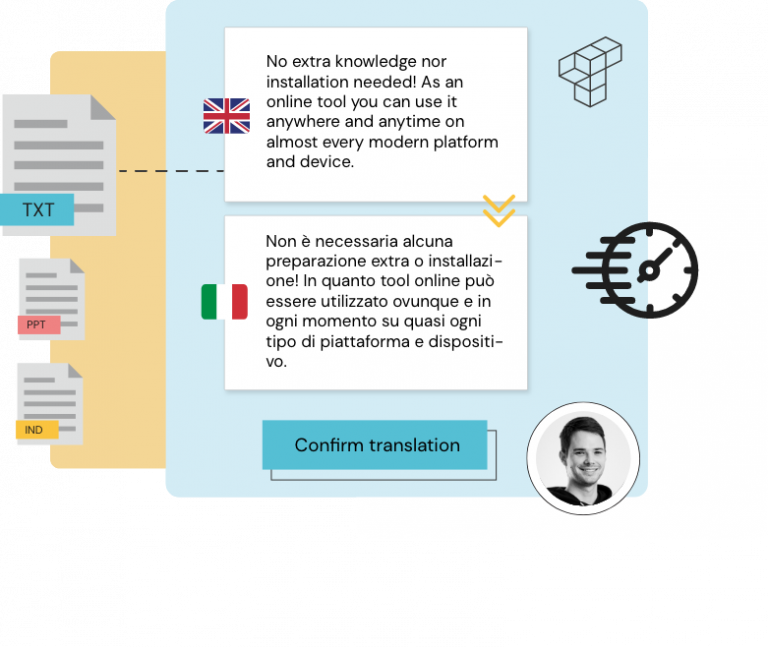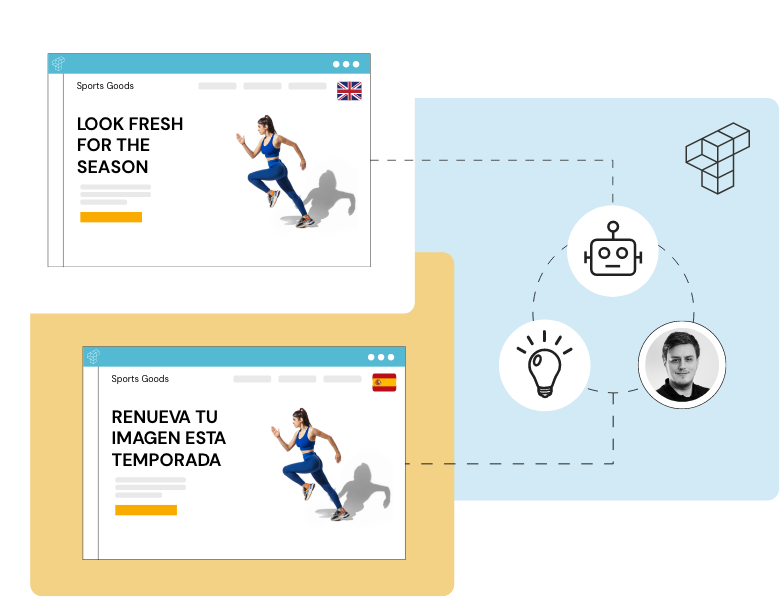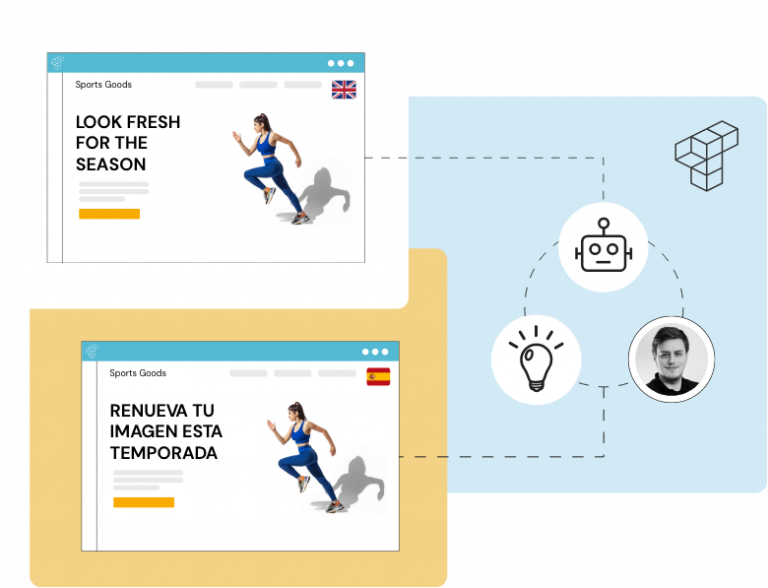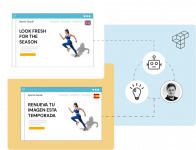 Automated Translations—API
For companies that need a lot of content translated on a regular basis, connecting our API to your system is the best solution to get translations directly into your system. With our API connection, you can automate and simplify your translation processes.
"We've been working with Taia for many years now. During this time we established a very pleasant business relationship. 
We can describe their work as fast, reliable, very professional and high quality. They listen to their customers' needs and always deliver as expected."
Ready to join these amazing brands today?​
* We don't spam your email or share it with anyone!
In case we haven't covered it all...


Taia Translations participates in the implementation of the financial instrument co-financed from the European Regional Development Fund within the Operational Program "Competitiveness and Cohesion".
Krajnji primatelj financijskog instrumenta sufinanciranog iz Europskog fonda za regionalni razvoj u sklopu Operativnog programa "Konkurentnost i kohezija"